Perfect your life with the best storage products!
TOPESEL is running another exciting giveaway exclusively for members and new members. 3 portable prize packs of our best Portable SSD and Micro SD Card will be given to those who are very active for this giveaway.
3 lucky winners each will receive our portable prize pack of Portable SSD and Micro SD Card. 5 more winners each will receive a 50%-Off Coupon for all our Portable SSD. Total value $740!
Here is how it works:
Sign up for free to enter with your email or social media account.
Make sure you follow the steps to get all entries.
Don't forget to share with your friends and families to earn extra entries, you can share with up to 300 people for a better chance to win the prize! 
Enter to win $740 Portable SSD Pack Giveaway
What you Get?
1 * $128 Portable SSD 1T and 64GB Micro SD Card Pack
1 * $96 Portable SSD 500GB and 64GB Micro SD Card Pack
1 * $65 Portable SSD 250GB and 64GB Micro SD Card Pack
5 * 50%-Off Coupons for PSSD, valued $450+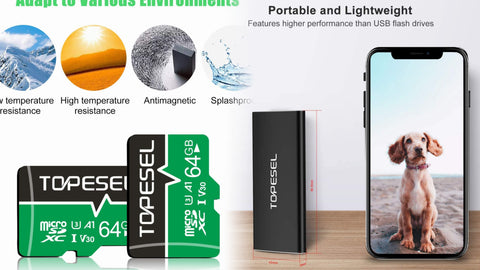 The spectacular TOPESEL X2-mini is living proof that good things really do come in small packages – it's a masterclass in portable storage.
If you think an external storage device cannot be smaller than a high-powered power bank, you'd be wrong. TOPESEL X2-mini, in fact, is just a bit bigger than credit cards. This means that you can slip it in your shirt pocket and carry it anywhere you go.
TOPESEL X2-mini
Ultra-Fast Transfer Speed - Read and write speed can respectively reach up to 540MB/s and 500MB/s, which enables you to fast back up massive data to the SSD or read data from it.

Mini Design & Lightweight - The SSD is very mini and lightweight, smaller than your palm, and easy to carry around with you; metal-made design makes it more solid and durable, and features fast heat dissipation.

Excellent Performance - The SSD features ultra-fast, stable and secure data transfer, waterproof, shockproof, wear resistant; and it has more excellent performance than common mobile solid state drive, perfect for photographers, gamer, video editors and music producers.
TOPESEL X5-Pro
Ultra fast read and write speed - High-speed transfers with up to 500MB/s read speeds let you move hi-res photos and videos fast (Based on internal testing; performance may be lower depending on drive capacity, host device, OS and application)

Small size and light weight - Good things come in small sizes(3.38*1.81*0.39in,1.83oz) This hard drive has high performance and large capacity and is smaller than a smart phone, can easily slide in your pocket or purse to take work and entertainment.

Specifically Made Stable - Metal look, durable, dust and waterproof, keeping portable SSD cool for reliable data transfer and low power consumption

Meet your creative needs - This portable SSD has a variety of storage sizes for you to choose from. Also, you can store high-resolution photos, videos and sound files, perfect for all your creative activities

Vast Hardware & Software Compatibility - Fits most USB-C phones, tablets, and laptops on Android, iPad OS, Mac OS, and Windows systems, including iPad Pro, Macbook Pro, Xbox, etc